Animate OPEN: Parts & Labour
---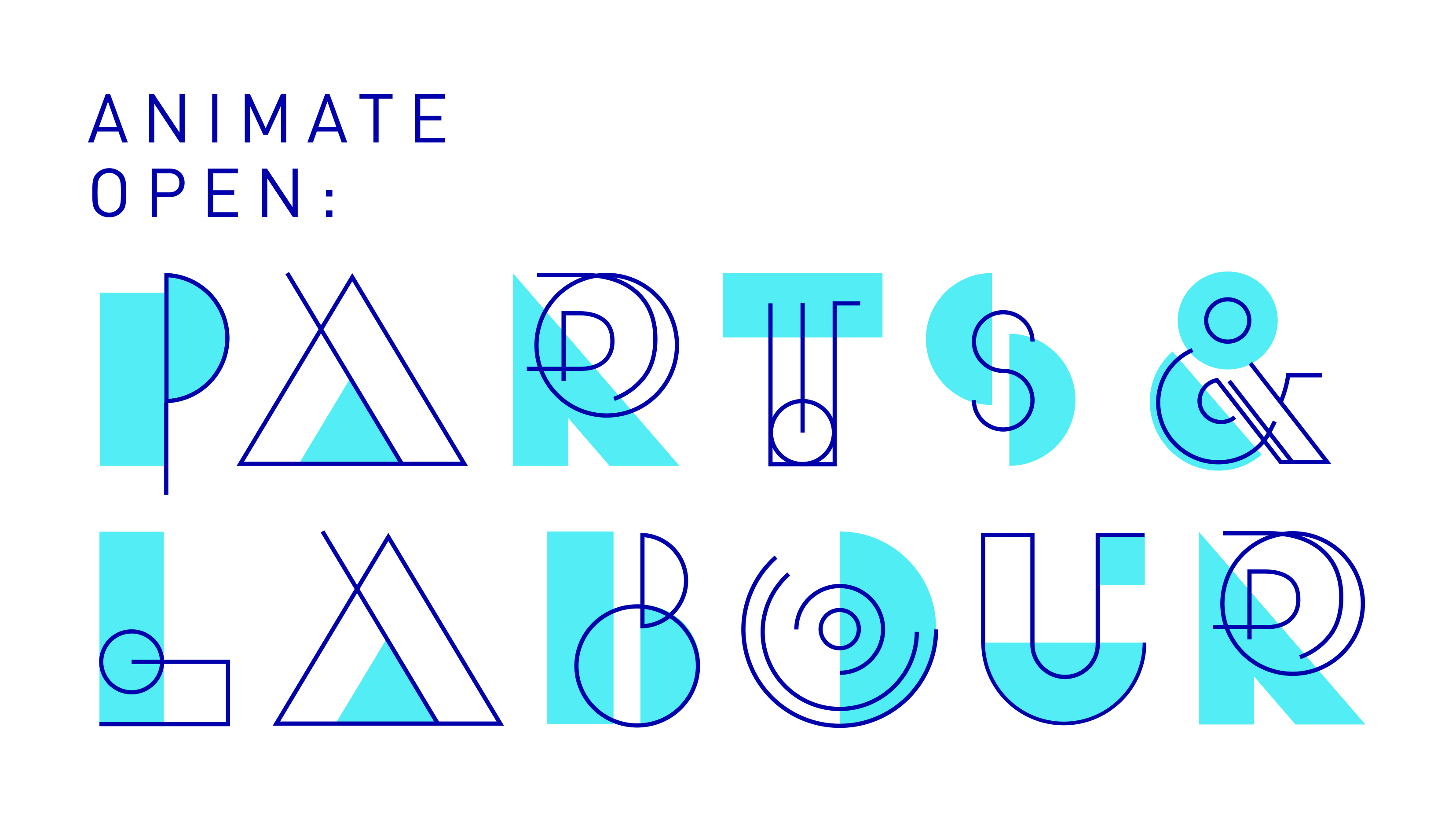 The Parts & Labour online exhibition ran from from 1 April - 30 May 2016. These films are no longer available to view on this website, but many can be found online elsewhere.

Parts & Labour: the second Animate OPEN set out to celebrate, subvert and confound our expectations of what animation is, bringing together different artistic approaches that connect through their exploration of the concept of animation as craft. Parts & Labour explores the idea of animation as something that is made – whether physically, digitally, or both - and is evidence that animation is a medium at the forefront of artistic and creative innovation, and the development of new techniques and approaches. The exhibition champions the animation artist and maker, and highlights their work and skill.

The works were selected from an international call, and presented across gallery, cinema and online.


---
Films
---
Prizes
The Animate OPEN Prize of £1,500 was awarded to American artist Jake Fried, for his film Brain Lapse (2014).

The Animate OPEN Jury was: Louise Clements (Artistic Director, QUAD), Ruth Jarman (artist, Semiconductor), Chris Robinson (Artistic Director, Ottawa International Animation Festival) and Gary Thomas (Animate Projects).

The Jury gave special mention to Sebastian Buerkner, Steven Subotnick and Alan Warburton.

The joint winners of the Animate OPEN Audience, as voted for by visitors to the exhibition at QUAD, sharing the £750 prize, were Alan Warburton and Wednesday Kim.

---
Exhibition
The gallery exhibition opened at QUAD Derby on 27 November 2015 and ran until 24 January 2016.

The works are grouped under three headings: Industry, Manufacture and Material.

The films in Industry are about different kinds of performance: the physical act of artists or performers in creating the work; how digital culture shapes our behaviour; or addressing the impossible physics of computer generated images. Manufacture is about hard graft, skill and style: the many hundreds of drawings it takes to make an animated film, or virtuoso displays of digital exuberance. In Material, the artists interrogate the medium, particularly questioning the veracity of digital truths.

There are of course plenty of other connections to be made, within and across those categories. Perhaps comparing the different ways in which artists use drawing, hand made and digital collage making, and collage. Or the various disruptive approaches to narrative, abstraction, and appropriating images from the media and games. There is a strong strand of political comment running through the exhibition, questioning how digital media shapes our lives, and our world. And there's plenty of humour too.

INDUSTRY
Let's Play Nomad X (Kristian Andrews, 3'14")
Flow (Jane Cheadle, 3'29")
How We Fall (Sophie Clements, 2'30")
Gray Elegy (James Duesing, 4'46")
Metaphysical 1a & 1b (Richard Fenwick, 5'18")
Le Modulor (Martial Guillaume, 1'25")
Noisy, Licking, Dribbling, and Spitting (Vicky Smith, 3'25")

MANUFACTURE
Live, Moments Ago (Catherine Anyango, 2'01'')
Brain Lapse (Jake Fried, 1')
Building on a Detail (Jonathan Gillie, 2' 59")
Metropolitan Triangle Garden (Rui Hu, 3'54")
alteration-de-la-voix (Wednesday Kim, 1' 59")
Fruit Fruit (Peter Millard, 2' 16")
Our Selves Unknown (Edwin Rostron, 3')
Pig (Steven Subotnick, 3' 15")

MATERIAL
Weresheglanspertheere (Sebastian Buerkner, 5'07")
Kebab World (David Theobald, 3'04")
Ascension Ceiling (Sean Vicary, 3'12")
Psychometrics (Alan Warburton, 3'03")

---
Other elements
There is a Parts & Labour cinema programme as part of our touring initiative, Move It, that can be hired during 2016.

Parts & Labour includes The Interpreter, a new work by Noriko Okaku, commissioned through an open call for proposals, by Animate Projects, QUAD and D-LAB.

Junction Arts also ran animation workshops with pupils at Heritage High School in Clowne that can be accessed via an app.

Essays by Lilly Husbands and Adam Pugh, accompany the exhibition.